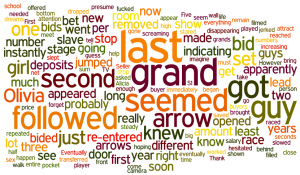 While in route to the set, different videos of Olivia during the private room session were shown. I didn't know they were filmed. I guess it was to help bring the bidding. She was described a little, and suddenly she appeared on stage.
Olivia was sent to the set. She was nervous at first, but with the new developments, seemed confident enough, at least, for the cameras.
She repeated the act I had prepared for her. At the bottom of the screen, 100,000$ appeared, indicating, I presume a first bet. A set of arrows were disappearing at the right, but before they were all gone, the number jumped to 105,000$, with the same arrows starting again.
After a few changes, the amount got up to 150,000$, and seemed to remain steady, the arrow being removed. However, she has just stared masturbating herself and as the last arrow was about to be removed; the number got up to 155,000$.
At least, I knew her father would be saved. With half of 155,000$, the 6,000$ from deposits and the 20 grand he already got, he was fine.
But the numbers didn't stop.
She did everything she could to attract attention. It got up to 160 grands, and 165. Soon, 200 were reached. It seemed to hesitate. In the past, the price jumped by step of three bids. But now, a player seemed to have dropped. It jerked rapidly to 215, slowed down, apparently one of the guys hesitated. At the last arrow, 220 were offered, immediately followed by a 225 bet. At the last arrow, I waited for 230 to appear, but instead, 225 began flashing. Olivia didn't seem to have any reactions. She had just made around 120,000$ net , 40,000$ more than she needed, giving her an annual salary of 20,000$ per year. The door opened behind me. I knew what was going to happen.
The walk down was very long. We paused a lot. I knew why: the episode with Alicia was being show on the TV, increasing their desire for me.
Eventually, I was brought on stage. I was disappointed: I didn't see the bidders, and more importantly, I didn't see the bids. On the wall in front of me was a big mark indicating where the camera was.
I did my show, hoping to get a high bid. It seemed to take a very long time, much longer than with Olivia. I masturbated a lot, played with myself and eventually, the Seller opened the door and asked me to come to him.
As soon as I got close to him, he held me in his arms, screaming and shouting.
"What? How much did I get?"
"Let me tell you how it went. There were 8 deposits on you, with three transferred to S1. First, it went really quick to 375 grand. Five different buyers, the girl you slept with had the lead. Then, it raced between her and another guy, the one who fucked you, up to 395. There, the guy apparently folded, with your girl in the lead.
Out of the blue, one of the guys re-entered the race at 400. I thought it was over, because you said she had 400, but she bided 405 at the last second, followed by the other guy at 410. At the last second, your girl, she must really like what you did, bid 415, to be followed at 420. At the last second, a new bidder I didn't know bid 425, followed by the guy instantly at 430 and a race was on. All within a few seconds, and you were up to 445! Can you imagine, but it didn't stop! The guy who re-entered at 400 bided 450 at the last second, probably his entire budget. But he was instantly followed… at 460! Not 455, but 460, a 10 grand jump, probably to drop him off, which worked!"
"So ?"
"So, you made 460,000$, 230 grand of which go directly in your pocket, plus 10 grand for the trials!"
"Wait, less 10 percents for the school, it gives me… 217,000$! Thank you!"
"Now, don't thank me, you are going to meet your buyer soon. You have just sold that person two years of your life as a sex slave for the sum of 230 grand per year. So, don't forget, you are only a slave right now.
"Yes Master"
We walked toward the transition room, with my head filled with dreams of what I would do with that amount of money in two years!